Vivi l'attimo
Mendrisio, Switzerland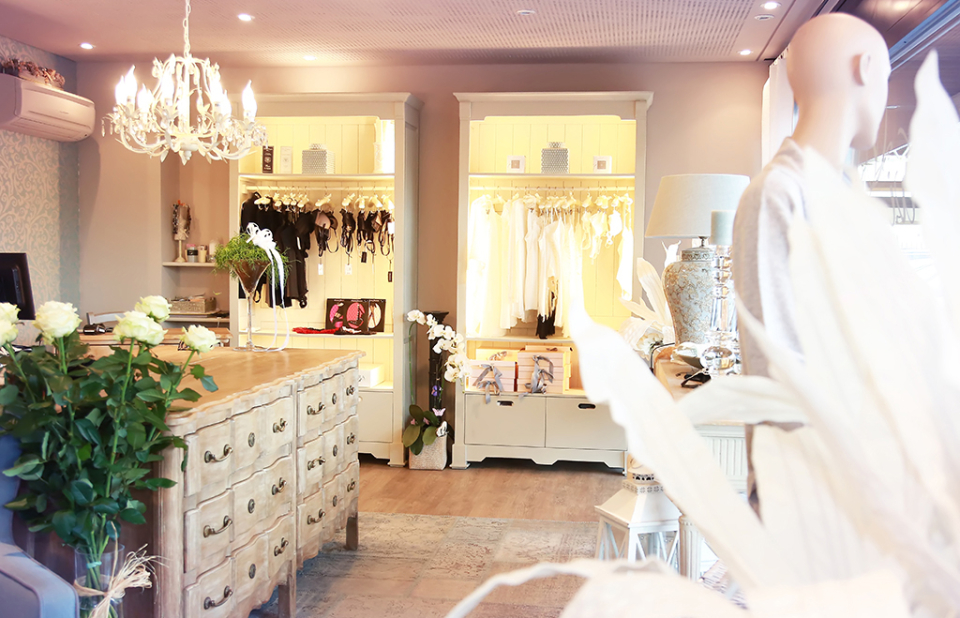 established

2005
sale area

100 m²
Number of locations

1
BRAND OFFERING CATEGORY

Multibrand
store mood

Classic, Elegant, Romantic
boutique description
A small store full of surprises: at the crossroads between Italy and Switzerland, a haven of lingerie and beachwear with a shabby chic, sophisticated and feminine flavor. It's time to rediscover the pleasure of taking time to yourself…
Forever a big lover of intimate apparel, in 2015 Viviana Puricelli created her "little treasure" of lingerie and swimwear in Canton Ticino. In Mendrisio, a strategic junction just a stone's throw from the border, frequented by both Italian and Swiss customers, Vivi l'Attimo offers quality products, with a keen eye for Italian-made pieces and precious materials and finishes. The name (live in the moment in Italian) is an evocative play on words, in which the owner's nickname meets carpe diem philosophy: the idea is to offer women an elegant and welcoming refuge, where they can enjoy a shopping experience and a bit of time to themselves.
We love the vintage atmosphere in shabby chic style, with a dash of sophistication. For Viviana, the concept of intimate apparel is brought to life by the environment in which it is found, and here in the boutique, in line with this attitude, attention to detail, soft colors and lace give that romantic and retro touch, which goes beautifully alongside the custom-made furniture from an artisan carpenter. Restored and repainted cabinets and drawers, a handmade patchwork rug, art deco upholstery, the chandelier and the lamps, and the work of a stylist who re-works ancient lace to create design objects: all come together to produce a sensory space, in which eyes are drawn by seductive color harmonies and the room fragrances leave an olfactory imprint on your memory. Quality and style at the right price, with a selection of tastes and often exclusive brands: this is how Viviana has won over a high-end, evolved and demanding clientele, with loyalty rewarded through personalized services such as shopping by appointment and deliveries abroad.