LOVEVER
Turin, Italia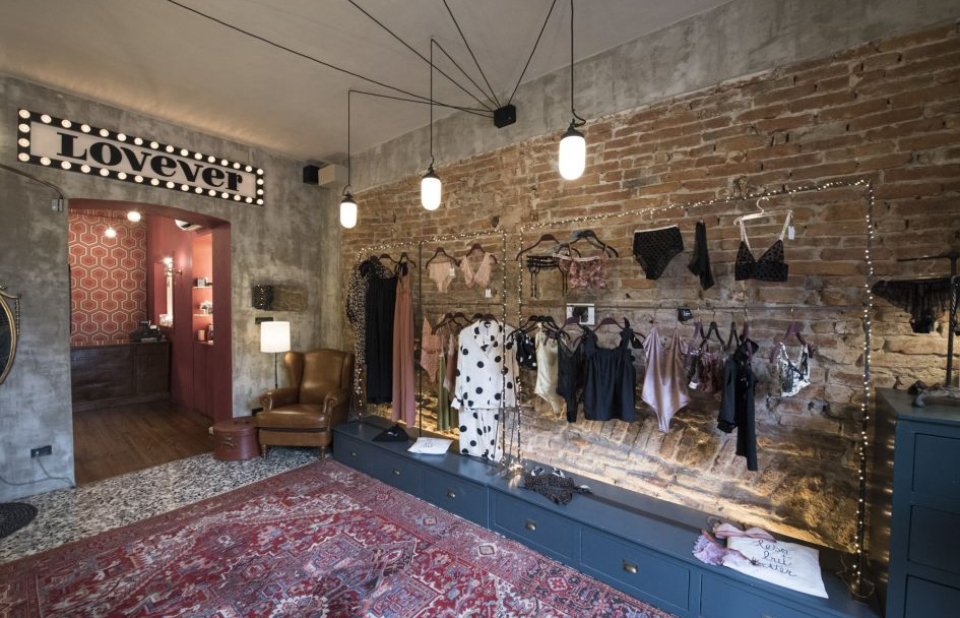 gender

Women
Main offer

Women Lingerie / Bras, Petite, Nightwear, Loungewear, Swimwear, Accessories, Bridal, Erotic
secondary

D+, Daywear, Resortwear, Athleisurewear, Ready-to-wear, Plus size, Sport
established

2012
sale area

45 m2
Number of locations

1
BRAND OFFERING CATEGORY

Multibrand
store mood

Contemporary / Design, Seductive, Elegant, Trendy, Romantic
boutique description
While the store's product offer is exclusive, the experience it provides is extremely inclusive. Specialising in original items dedicated to love therapy, Lovever reaches out to couples of every kind, whether newly formed or who have been together for years; but also to singles, long-time temptresses, seducers and fledgling novices. Divided into 4 universe: "Play" with love toys, fun activities for couples; "Feel" for erotic cosmetics and perfumes; "Dress" with high-end lingerie; Desire with bags, jewellery and accessories. The offer is both unique and varied, with selected international and niche brands, exclusively introduced for Italy. The styles and products, ranging from playful to seductive and romantic, are characterised by an appealing aesthetic, innovative design, creativeness and colourfulness and moreover are always discreet and sophisticated, never vulgar or coarse. Inside, the store has no images, an invitation to every woman to be sexy in her own way, looking beyond all stereotypes and pre-established models. The store design also reflects this concept, merging different styles, each one appealing to a different inclination: a private and cocooning space, located in an 18th century palace, conveying an idea of home with its mix of antique and modern. Rough bricks, wood and iron, the strength of the elements and elation of the senses, contrasting with the burgundy walls and the carpets' geometric circular patterns alluding to the deep and complex essence of women.

In the Lovever concept eroticism is an integral part of love, the sweet and spicy ingredient for added taste in a personal recipe. Erotic-chic garments for those intimate moments but not only: ranging from bodysuits worn at a candlelit dinner to "ready to wear" style pajamas, from petticoat dresses to necklaces and bracelets used as pleasure accessories… Elisa giving every woman the opportunity to express her own personal approach to sensuality carefully selects each item. Underwear as outerwear provides the key to mixing and matching to taste, with a focus on deconstructed lingerie silhouettes, for a more natural sensuality suited to all kinds of body shapes. An expert at putting together "hot sets" as presents for different occasions, Elisa satisfies all kinds of requests with her Lovever brand collection. Currently she is working on an unprecedented lingerie capsule to be worn during the day, which can be transformed into intriguing pieces, with surprising creations such as the "kimono panty"…

Lovever also organises sensory experiences, meetings and events to investigate ideas and concepts concerning the world of eroticism and to explore our comfort zone and lovemaking without taboos. The events can be attended alone, with one's partner or with a group of friends, inside the store with private sessions, at home or in a place of choice. And with the lockdown the "Lovever experience" has expanded to include additional services: You & me, offering a personal consultant over the phone or on a video call; Shopping on a sofa, personalised assistance at a distance providing advice and ideas for presents; #DonneDaCoprifuoco (women under curfew), weekly encounters on the IG platform on the topic of wellbeing (featuring writers, actresses, bloggers, sportswomen and businesswomen as special guests)... And finally, Lovever you want: shopping by appointment at the store in total privacy… A format which Elisa intends to invest in, turning the "Lovever moment" into a special beauty session for every woman to indulge in, just like going to the hairdresser's, a therapist or a spa.
❤ We love the intimate sensory parlor, with its design blending a playful atmosphere with a feel evocative of the circus and the cabaret. For a more evolved and conscious yet playful form of seduction...